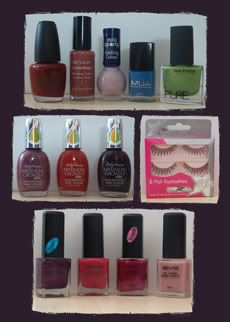 I was originally going to do a giveaway at 50 followers, but that came and went really quickly and I didn't have anything to give away. Then I was going to wait for 75 followers or 100 blog posts, but I'm just too excited. So here it is…
My first giveaway. And it's very exciting, for me at least. And I hope you all like the stuff that's up for grabs. The theme is My Favourite Things because this is my ideal giveaway and I want to keep all of this stuff for myself!
The Rules:
1. You must be a follower.
And that's it.
To be entered just leave a comment and be sure to include your google friend connect name and email address.
Hit the jump to see what's up for grabs and how you can earn easy extra entries.

Extra Entries
Anyone who was following me before the giveaway is posted will automatically get 1 extra entry on entering the giveaway.
For 1 extra entry, let me know what British chocolate/sweets/candy you would like to try (if you're an international entrant). For people from the UK, just let me know your favourite.
For 2 extra entries, add me to your blog roll.
For 2 extra entries, post this giveaway anywhere on your blog with this picture.
For 3 extra entries, mention this giveaway in a blog post, using this picture (4 entries if the post is entirely dedicated to my giveaway)
Let me know which ones you do and leave a link for me to verify.
The Goodies
Glittering Purple – See it stamped here
Mosaic Plum – I had a colour very similar to this one but it broke 🙁
Metallic Fuschia – Not really metallic, but a nice colour, see it here
Lilac Bliss – See it stamped in Ice Ice Baby
Vital Violet
Sacred Scarlet
Wholesome Earth
LA Colours – Berry Red
Revlon ColourStay – 450 Always Romantic (see it here)
Miss Sporty – 120 (No name, but it's a light, sparkly lavender)
MUA – Shade 9
Carla di Roma – Bright Green
Star Eyes – 2 Pairs of false eyelashes. Modelled below by yours truly.
I love false eyelashes and wear them everyday if I have the time and patience to put them on. These ones are good for every day wear as they don't look too heavy.
Plus, whichever sweets the winner requests and some of my favourites too.
The giveaway is International.
It closes at midnight on July 31st.
Good luck.
THIS GIVEAWAY IS CLOSED. PLEASE DO NOT LEAVE ANY MORE COMMENTS, THANKS.